The Top 3 Benefits Of Eating Chilis
Do you love the spicy thrill of a hot chili? Aside from being a enlivening and enjoyable experience for many, studies are showing that chilis pack some powerful benefits.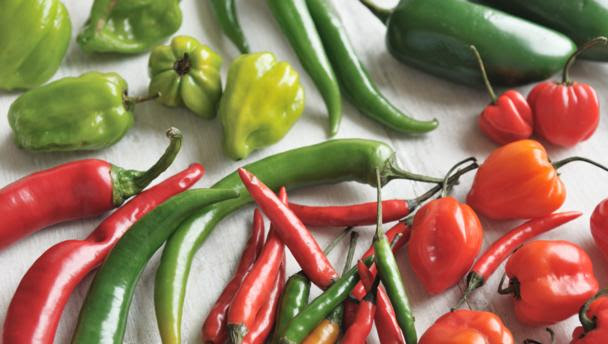 (Image Credit BBC)
1. Capsaicin & Weight Loss
Studies have shown capsaicin may help fight obesity by decreasing calorie intake, shrinking fat tissue, and lowering blood fat levels, as well as fight fat buildup by triggering beneficial protein changes in your body. 
Part of the benefit may be due to capsaicin's heat potential, as it is a thermogenic substance. Meaning it increases heat through metabolic stimulation, which could positively impact your metabolism and fat-burning potential.
Research suggests that consuming thermogenic ingredients like chilis, may boost your metabolism by up to 5 percent, and increase fat burning by up to 16 percent. It may even help counteract the decrease in metabolic rate that often occurs during weight loss.
2. Capsaicin May Help Kill Cancer Cells
Capsaicin has both antioxidant and anti-inflammatory properties, and has shown some promise for cancer treatment. Research has shown, for instance, that capsaicin suppresses the growth of human prostate cancer cells while leaving normal cells unharmed.
In one study, about 80 percent of the prostate cancer cells in mice were killed by capsaicin, while treated tumors shrank to about one-fifth the size of untreated tumors.
Capsaicin has also been shown to be effective against breast, pancreatic, and bladder cancer cells, although you might need to eat very large amounts of capsaicin to get such benefits (such as eight habanero peppers a week).
3. Chilis are high in vitamins & minerals, especially Vitamin C
Fresh chili peppers are a rich source of vitamin-C. 100 g fresh chilies provide about 240% of your RDA of Vitamin C. Vitamin C is a potent water-soluble antioxidant and is required for the collagen synthesis. Collagen is required for maintaining the integrity of blood vessels, skin, organs, and bones. Regular consumption of foods rich in vitamin C helps protect from scurvy, develop resistance against infectious agents (boosts immunity), and scavenge harmful, pro-inflammatory free radicals from the body.
Chili peppers have amazingly high levels of vitamins and minerals.
Just 100 g provides (in % of recommended daily allowance):
240% of vitamin-C (Ascorbic acid),
39% of vitamin B-6 (Pyridoxine),
32% of vitamin A,
13% of iron,
14% of copper,
7% of potassium,  


Do you love eating chilis? if so how or why do you enjoy them?
Leave a comment below and let us know. 
-Daniel & Matthew
Sources:
http://healthimpactnews.com/2014/how-chili-peppers-can-be-used-to-treat-pain/#sthash.PoDE2YeW.dpuf
www.Mercola.com
http://www.nutrition-and-you.com/chili-peppers.html